The Bendigo Gold fields are not just, after Kalgoorlie, Western Australia, the second most productive gold mining area in Australia, but also a mineral discovery that literally shaped a nation. Since 1851, approximately 25,000 oz (777 tonnes) of gold has been extracted from Bendigo, initially from  alluvial gold and later from  underground mining of the gold-bearing quartz reefs.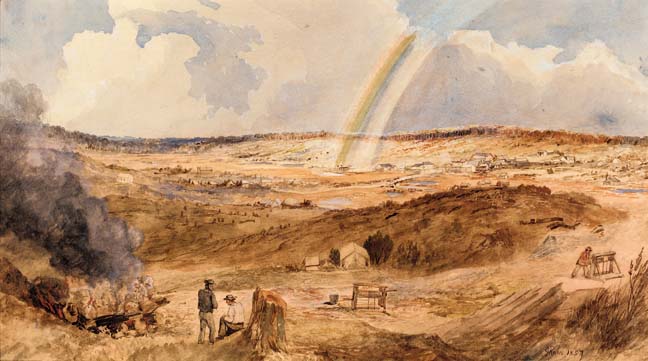 From Penal Colony to Des Res
Bendigo is part of the Victoria's Central Goldfields area which include; Stawell, Fosterville, and Ballarat. In 1851 discovery of gold in creeks were reported in all of these locations, cumulating in the Bendigo Creek discovery in September, 1851, by two women: Mrs Kennedy and Mrs Farrell, wives of pastoral lease workers.
Once word got out the area had a population, grow from 800 to 20,000 within six months and double again to 40,000 "diggers" by June 1852. In contrast, Melbourne prior to the gold rush had a population of 20,000. Significantly, around 20% of the miners were Chinese, and although many returned to China, others stayed on, and Bendigo has a significant Chinese population to this day.
For a brief period, the aspiring working class of London were deliberately getting caught and convicted of crimes that led to transportation to these fabled gold fields! Already unpopular with settlers, transportation ended soon after the Bendigo gold rush.
Initial mining was for alluvial gold in the creeks and rivers. Outcropping quartz reefs were obvious, and to bring some science to the rush the government rapidly appointed a Victorian Government Geologist and created the Geological Survey of Victoria.
The Geology of Bendigo's Gold
The initial rush saw prospectors chasing alluvial gold, which soon ran out . The source of the gold was obviously the nearby exposed quartz reefs. Miners banded together to follow the gold underground, but it wasn't as simple as first thought.
The quartz reefs proved to be very erratically mineralized, and the so-called "nugget" effect of coarse-grained gold mean that normal, small sample rock sampling was inaccurate. It wasn't until modern exploration applied bulk scale sampling techniques that more accurate grades could be predicted.
An average grade of over 10g/t gold is thought to have been mined from Bendigo's mines.
Orogenic Gold Deposits
The gold-bearing quartz veins are thought to be associated with ancient (Cambrian to Devonian age) turbidites i.e. underwater landslide materials. These thick sedimentary rock sequences have been deformed by huge faults along plate boundaries, while being heated from below by granitic intrusions. The quartz veins precipitated during folding and faulting of the older rocks, and are typically about 20m wide and can be traced for hundreds of metres. The veins are associated with plunging anticlines, and high-angle reverse faults. The interlocking quartz vein systems cover some 150 square kilometres. Gold was concentrated at a depth of around 6-12 kilometres around 440 million years ago. Surrounding rocks show iron-magnesium carbonate alteration.
It is thought that orogenic gold is formed significantly deeper in the earth's crust than epithermal gold deposits or gold-copper porphyries.
Similar orogenic gold deposits have been found and nearby Stawell, Victoria and Juneau, Alaska.
Production At Bendigo Gold Fields
Bendigo's gold reefs are controlled by a folded anticline. Up until 1954 some 5,000 shafts were sunk following the quartz veins from the surface, some were down to 1000km deep, the deepest, Victoria Wartz, was  1406m The field was the largest concentration of deep shafts in the world But the majority of the gold field wasn't minded deeper than 200m
Mining conditions were difficult for early miners. The gold veins were steeply dipping, and the mineralised lenses were small. The rapidly deepening mines meant increased costs and technical issues with water pumping, ventilation and a high geothermal gradient which saw bedrock as hot as 45C in 1300m deep shaft. Production tailed off during the early 20th century because of these technical difficulties.
Production slowed during both World Wars, as men and equipment were needed elsewhere.
During the 1930's, a higher gold price saw increased exploration and the discovery of significant new reefs on the Deborah line of lode. The Deborah Mine was the last underground mine in Bendigo, and by the time it closed in 1954 22 million ounces of gold had been produced from the Bendigo gold fields.
A program of lease purchase and consolidation saw WMC Ltd control most of Bendigo's mining from 1978 to 1993. Despite an extensive drilling program and data analysis, they were ultimately unsuccessful in finding significant new production.
At the time failures included:
limited understanding of the structural controls of the mineralisation;
limited understanding of soil sampling issues with the coarse-grained gold;
difficulties in liaising with locals for necessary permits.
Bendigo Mining Ltd bought out the company in 1985.
Bendigo Mining developed the geological and geophysical data collected by WMC, and in 1996 a resource of 300,000oz gold was announced. This was based on significant data analysis of the WMC data, which developed a detailed structural model based on data and historic production. The new geological model predicted vertically stacked linear bands of mineralisation along the lines of the reef at 200m interval
By 2008 trial mining nearly 60,000 tonnes processed 8.1 g/t gold however the predicted reserves proved optimistic, and the mine was put on care and maintenance in 2011.
Exploration is still active in the area though and in 2012 Navarre Minerals announced 33.6g/t intercept 44m deep at Tandarra – 40km north of Bendigo. This is an entirely new structure which has not been previously mined. There is no surface expression of the mineralisation, which is concealed under shallow sands and clays.
It looks like the story of Bendigo's Gold Fields is not over yet.
Companies mentioned
WMC Ltd taken over by BHP Billiton in 2005